The uptake of automated instrument cleaning using thermal washer disinfector units continues to increase as dental practices update their infection control workflows and equipment. The trend is as much driven by the need to comply with a Standards-driven push to move away from manual instrument cleaning as it is to increase efficiency and make better use of valuable human resources.
We spoke to Jim Owen from MOCOM Australia about this growing trend in infection control solutions and why installing a washer disinfector is a good idea.
Q. So why are washer disinfector units becoming the new normal in dental sterilisation rooms?
A. I think the big driver for installing washer disinfectors in 2023 will continue to be as a way of future proofing your practice. The new draft standard AS 5369:2021, which will replace AS/NZS4187 and AS/NZS4815, reiterates the need to move away from manual instrument cleaning so we're only going to see more and more interest in automated systems.
There are also myriad benefits to using a washer disinfector over manual cleaning. It's a validated process so you know its cleaning effectively. It allows for better use of staff time. There is significantly less risk of sharps injuries due to reduced handling.
Many practices are on an efficiency drive so for a staff member to be able to load the washer disinfector and then move on to other duties while the instruments are automatically cleaned has a multitude of benefits.
Q. Is a washer disinfector an alternative to an ultrasonic bath?
A. It's a better alternative. A lot of practices do use ultrasonic baths to assist in instrument cleaning but the fact remains that you still need to manually handle the instruments. You still need to rinse the instruments afterwards and you still need to dry the instruments before sterilisation. And you need to drain the chemicals out of the bath.
If you're short on space, we have a bench top washer disinfector (Mocom H10 Tethys) that completely automates that process and for larger clinics, the under-bench models offer even greater productivity. You load the dirty instruments, and the unit does the rest.
Q. Can you clean handpieces in washer disinfectors?
A. The short answer is yes you can. In our underbench units, there's an accessory for this. The handpieces fit into a silicon holder that allows water and chemicals to be "pushed" through the handpiece mechanism to remove any bioburden. It's one size fits all handpieces. Our bench top unit, the Tethys H10, is also now able to process handpieces using an accessory. Up until recently, you couldn't process handpieces in the H10 because it uses ultrasonics during the washing phase. And as we know, you can't put rotary instruments in an ultrasonic bath.
With the new firmware update, however, it enables the ultrasonic function to be turned off and with the addition of the handpiece accessory, you can now process up to six handpieces at a time. In both cases, once removed, the handpieces should be lubricated prior to sterilisation. It is of course important for practices to clean their handpieces internally as well as lubricating them and we often see this first step overlooked.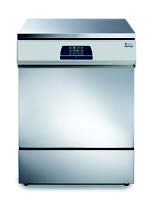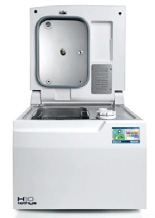 Q. What about instrument cassettes?
A. Instrument cassettes are actually perfect for use in our washer disinfectors and mitigate the risks of sharps injury even further. Instruments can remain in the cassettes during cleaning and drying in the washer disinfector and once completed, wrapped or bagged for sterilisation.
If practices are utilising instrument cassettes, like Hu- Friedy's IMS, MOCOM has two accessory racks that allow up to 12 of the very large cassettes to be processed at a time in our full-size under-bench washer disinfector.
Using cassettes has also been shown to save time and increase efficiency. Instruments are loaded into the cassette chairside after use and closed for transport to the sterilisation area. The entire cassette is placed in the washer disinfector unopened. The instruments inside are cleaned and disinfected and dried at the end of the cycle. After inspection, the cassette is then bagged or wrapped and placed into an autoclave for steam sterilisation. The instruments in the cassette are then ready for patient use.
So, the instruments inside are never misplaced, dropped or damaged and risks of a sharps injury is negligible. So whereas using a washer disinfector alone increases your efficiency considerably, when used in conjunction with a cassette system, the gains are even greater.
Q. Do the instrument cassettes fit in the sterilisers?
A. We have multiple chamber racks available for the sterilisers as well. As cassette systems have become larger and more popular, having sterilisers that can accommodate these is obviously important. And sometimes you find with different brands of sterilisers that the standard chamber rack doesn't accommodate cassettes very well. At MOCOM we have a couple of options that basically utilise the width of the round chamber better so you can get those bigger cassettes in.
We also have what we call a modular tray rack where the shelves can be adjusted to the different heights of the cassettes. And we also have three chamber sizes available with the 28-litre model being fairly unique for bench top dental sterilisers. Its larger diameter obviously allows you to fit more in but also accommodates larger instrument cassettes with ease.
Q. How long does the washer disinfector take to process a load?
A. A full cycle with our largest D60 under-bench model utilising three-phase power – which includes pre-rinse, wash, thermal disinfecting and drying – takes around 90 minutes. There are also shorter cycles.
The D60 has 16 cycles to select from and some of the shorter cycles don't include the pre-rinse. We tend to recommend using the full cycle because the Standard says that if you're using a washer disinfector, you should be using a cycle with a pre-rinse.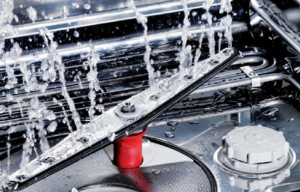 Q. When you say a validated process, what does that mean?
A. It means that you're getting the same cleaning result every time because a technician has validated that the process is successful. It means the unit has been tested to ensure it is cleaning thoroughly, time after time. Soil tests and process challenge devices should also be used at regular intervals per guidelines.
Q. How are the chemicals dispensed?
A. Part of the validated process is the automated dispensing of chemicals to ensure the correct amounts are used. There is a chemical cleaner and an acid neutralizer. There are two 5-litre bottles that sit side-byside next to the machine, normally inside a cupboard.
Q. Do washer disinfectors record cycle data?
A. The units do record cycle data – disinfection level and how long it's disinfected for and at what temperature. The unit can send cycle data to a computer and then this can be read with the software provided. There's also an option for an external printer to print cycle data. Like sterilisers, you're meant to record this information with thermal disinfectors as well.
Q. Any final words of advice?
A. There's been a lot of talk about the use of washer disinfectors becoming mandatory. It's already recommended in the Standard that you should always be using a washer disinfector where possible, unless the instruments cannot withstand the rigors of the cleaning process.
So installing a washer disinfector the next time you update your sterilisation area is future proofing your practice against any changes that may occur. It will also deliver a range of other benefits to your practice that will pay for itself time and again.
Are you thinking about setting up a new Dental Practice or renovating and redesigning your existing clinic? Check out Henry Schein's Surgery Setup website for a range of resources and information to help you get sorted.
Be sure to keep an eye on Henry Schein's Dental Education Hub for related events, courses, and information.