Air Compressors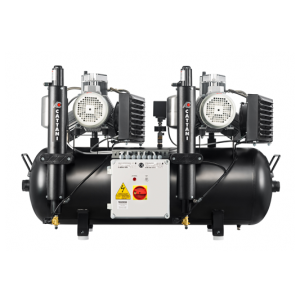 Dental practices rely on compressed air to provide safe and comfortable services to their patients. Having the compressed air system with the physical attributes most suited to the needs of your practice is imperative, this will ensure you're getting the most from your capital equipment investment.
Considerations when selecting a dental practice air compressor:
Practice size and number of users
You should consider both the size of your practice and number of clinicians, as well as the desired size of the air compressor in relation to it. You need to be careful to account for the number of personnel who regularly use your equipment, as too much simultaneous use could put a strain on your system.
Oil-free
Oil-free air compressors have a lower service and maintenance requirement because they work with less volatile substances, they are also more beneficial to the health of your patients.
Power
A compressors power range controls its ability to pump air. Dental air compressors come in a range of power ratings, for the majority of New Zealand's dental practices compressors with 1–5 HP are suitable.
Pressure
All dental equipment has a specific pressure requirement, most manufacturers measure their pressure requirements in bars, (1 bar is equal to 14.5 psi). Most dental applications use a pressure of 5 bar, but to avoid putting a strain on your equipment and to ensure it continuously runs at peak performance, it's a good idea to generate slightly more pressure than each unit requires.