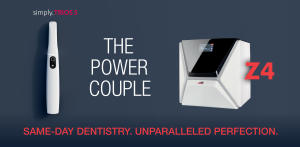 THE 4-AXIS MILLING MACHINE FOR WET MACHINING RESTORATIONS IN MERE MINUTES.
Integrated workflow with a single interface, and excellent same-day restorations for the patient in ultra HD. The Z4 creates high-quality restorations in mere minutes. Combined with the TRIOS 5 Wireless, which is 3Shapes smallest and lightest scanner to date, is perfectly balanced to fit perfectly in the clinician's hand, makes it easier than ever to go digital. TRIOS 5 Wireless delivers an unprecedented level of scanning simplicity.
An LED ring and haptic sensory feedback guide users while they scan to make digital impression taking smoother and faster than ever. And now with ScanAssist technology, which minimises misalignment and distortion in 3D models, users can scan their patients in any direction they want – just create the scan path that works best for them. 3Shape provides an intuitive user interface from scanning with the TRIOS intraoral scanner to designing the restoration, then milling with the Z4 in a completely integrated workflow.
WHY CHOOSE THE 3SHAPE TRIOS 5 SCANNER AND THE VHF MILL THROUGH HENRY SCHEIN?
Affordability – Highest quality equipment that pays for its investment in no time
Trusted Connection – Validated Trusted Connection with 3Shape Trios Design Studio and VHF
Flexibility of Material Choice – Composites, Glass Ceramics, Prefabricated Titanium Abutments, PMMA, Zirconium Oxide
Technical Support – Henry Schein provide support from our team of in-house specialist factory trained technicians.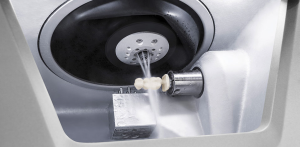 Are you thinking about setting up a new Dental Practice or renovating and redesigning your existing clinic? Check out Henry Schein's Surgery Setup website for a range of resources and information to help you get sorted.
Be sure to keep an eye on Henry Schein's Dental Education Hub for related events, courses, and information.