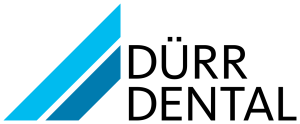 Not only is the design of the new VistaScan Mini View 2.0 futuristic. The technology behind it is just as pioneering. It uses the latest image plate technology and works together with VistaScan IQ image plates to open many new AI-based features. With Smart Scan Workflow, work becomes even more efficient thanks to the ability to link IQ image plates directly to the patient. Together with the superior image quality of the tried-and-tested PCS technology, this new system will make your dental practice completely fit for the future.
All intraoral formats
You can use all intraoral image plate formats with the VistaScan Mini View 2.0 – from size 0 to size 4. The process is just as easy as using analogue film.
Quick and easy scanning
With the Easy Feed concept, you can scan image plates very quickly, one after the other. The interchangeable inserts make it possible to digitise all intraoral image plate formats.
Convenient touchscreen
The color 5" touchscreen display provides both excellent image quality and an exceptionally easy to use user interface.
Excellent image quality
Thanks to PCS technology, VistaScan Mini View 2.0 can reliably highlight incipient caries lesions or make the tiniest bone structures visible.
ScanManager – for even more efficient work
Scanning tasks can be sent simultaneously from different workstations to VistaScan Mini View 2.0. Select the required task on the display, carry out the scan and perform a diagnosis on the PC screen straight away.
Scanning without a PC is possible
Thanks to the standalone mode, you can also work independently of the network. Images are stored temporarily in the internal memory of the device and then transmitted to the database later.
VistaSoft AI automation included
The VistaSoft package gives you access to powerful AI-based features that can automate day-to-day work routines and thus make them noticeably more efficient.
Sustainability built in from the start
All Durr image plate scanners are manufactured with sustainability in mind, and their goal is to achieve CO² neutral production. All divisions of Dürr Dental are committed to using resources in the most responsible way possible. It is important to Durr that they continue to improve energy efficiency and maximise service life by making all their units easy to repair and service. And, of course, finally everything is packaged in a safe and ecofriendly way.
Ambient Light
The LED lighting of the VistaScan Mini View 2.0 will add a nice touch of colour to your practice. You can freely choose a colour that best suits the look and feel of your interior design.
Key features
Excellent image quality
High-resolution glass touchscreen display
Ideal chairside appliance
LAN interface
Quick and easy scanning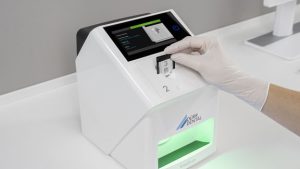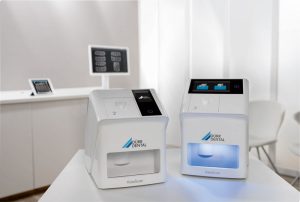 Are you thinking about setting up a new Dental Practice or renovating and redesigning your existing clinic? Check out Henry Schein's Surgery Setup website for a range of resources and information to help you get sorted.
Be sure to keep an eye on Henry Schein's Dental Education Hub for related events, courses, and information.